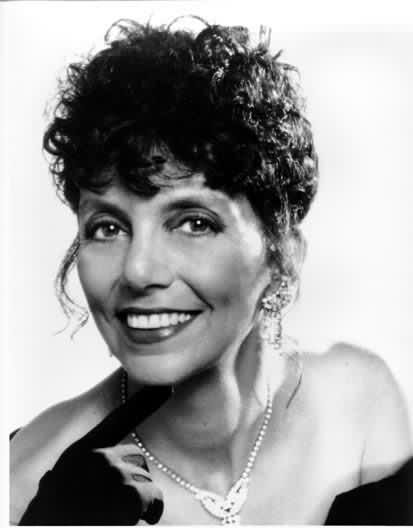 LYNNE MERYL

Lynne is a vibrant singer with a warm, mellow voice who performs the gamut of musical requests; Standards, Big Band, Swing,Jazz, sultry Latin songs, Pop, Rock, and Contemporary material.

Lynne Meryl sings the beautiful ballads from her heart, showcasing her deep contralto voice. She is equally at ease swinging through an up-tempo number or belting out the Blues. Her love of singing is always present in her manner, and so she sings with a good-humored, self-assured professionalism.

Ms. Meryl's earliest influnces were the vocal stylings of greats such as Frank Sinatra, Judy Garland, Billie Holiday, Ella Fitzgerald, and Nat King Cole. A fan of classic Hollywood movies, she developed strong connections with the popular music of the 30's ,40's, Big Band and Broadway Shows. In performance she draws from this extensive repertoire.

As a teenager Lynne accompanied herself on guitar, singing Folk music in coffeehouses. Her professional career began in Country music and later focused on Rhythm & Blues and then Jazz.

As a Big Band singer, with her own extensive library of arrangements, Ms. Meryl is a featured vocalist with numerous 9-20 piece orchestras. Lynne has sung with Ray Anthony, The Stan Kenton Tribute Orchestra, Melton Mustafa, Duffy Jackson, Michael Rose and Harvey Nevins.

Her beauty, talent, and engaging singing style make her the first call for many "club date" offices who appreciate her friendly and professional manner. She can happily sing one after another timeless melody in dance medleys through the night, or "be-bop and scat" her way through an evening of seamless Jazz.

"Lynne got to demonstrate why she is recognized as one of our top contemporary vocalists. Her style is a no-nonsense approach with no tricks; just good,honest singing with superb intonation, tone, and control. Ms. Meryl sings precisely on key with a voice that resembles a finely tuned instrument. The appreciative audience wouldn't let Lynne and her group go and demanded two additional encores. Lynne Meryl  was superb and the musicians backing her were great ! "

Sun Sentinel Newspaper, FL.

"Intriguing mix of straight ahead Jazz...most notable for Lynne Meryl's vocals."

Billboard Magazine

"Lynne Meryl has a deep, rich, bluesy voice filled with much emotion and strength."

Jazz World Index

"Resplendent in a flowing black dress, Meryl was the high-point of the program. Her well focused set included some energetic scat and a strong, sensitive reading of Moonlight in Vermont. With her deep, rich voice Lynne Meryl paints the words of a song with feeling."

Hampshire Gazette - MA.

"...a combo with Lynne Meryl on sultry vocals - solid jazz until the wee hours."

The Palm Beach Post - FL.

"Ms. Meryl is a consumate pro when it comes to interpreting a lyric as the songwriter intended."

Gold Coast Jazz Magazine

" Vocalist Meryl shows good chops and nice inflection."

OP Magazine